Gallagher Wins Erie Marathon and Honors Friend
It's been 9 years since I last won this race. Now I've won it again on September 15, 2013. Erie Marathon was the very first marathon I had ever done. Just after graduating college back in 2004, one of my best friends at the time (Scott Fabry) told me that now that I've graduated and no longer a college athlete (cross country and track) that I should start doing marathons. Being a veteran marathon runner Scott took me under his wing, helped me train for and ran beside me for the first half of my very first marathon back in 2004.
My intention for my 1st marathon was just to finish. I had no idea what I was in for. At half way, my friend Scott and I looked at each other. He could tell I was much stronger than we thought I would be. With an excited glare in his eyes he said "Just go! Just go! And win it!" I took off surprised that I was able to keep up with Scott that far, being this was only my 1st marathon.
In 4th place at the time, I picked up my pace and went after those other 3 runners. I ended up passing all of them and winning my very first marathon!
Unfortunately, Scott ended up passing away at the being of this year. I never had a chance to fully thank him for inspiring me and starting me on my journey of marathon running. I'm happy I won this marathon again – specifically this year since it has added meaning… sort of like a tribune and thank you. As my friend Scott would always say… "Make it a great day!" And I did just that, thank you buddy!
Subscribe

(TIPS & UPDATES)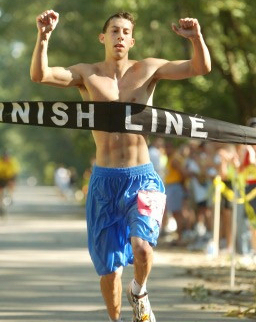 Sean Gallagher is a professional athlete, marathon runner. As an aspiring runner his goal is to qualifying for the 2016 Marathon Olympic Trials.